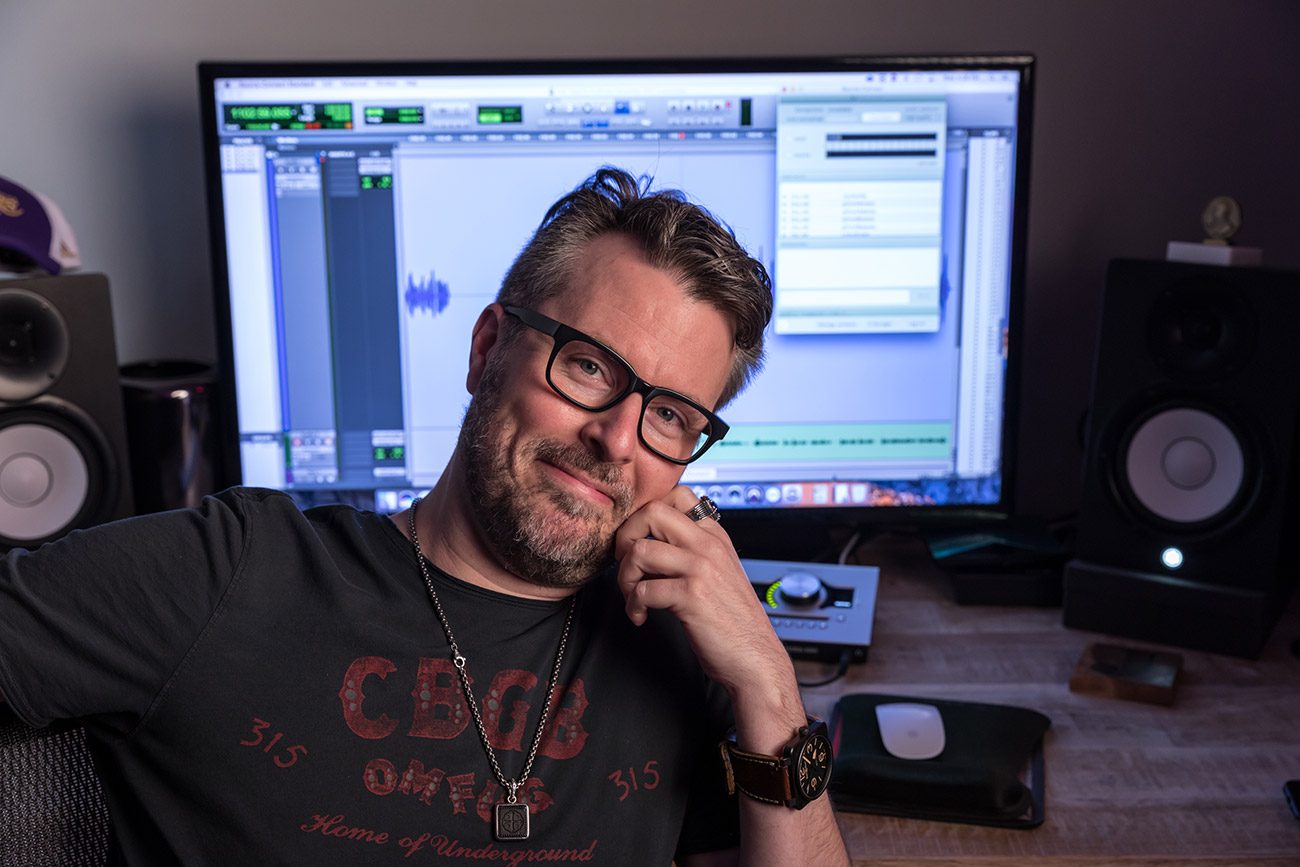 Meet Jason Jones, Male Voice Over Artist
The VO guy clients love and consumers listen to
I am more than a voice, and much more than just another voice actor. I have a life I love, full of rich experiences and interesting stories. I'm even working on a novel (you'll have to wait to read the dirty details). But right now, I'd like to share a little about myself to show you why I'm the right guy—with the experience and dedication to my craft—to help take your brand to a new level.
What I'm like
Driven. I love what I do. If I work with you, I want you to love my work as well. At the same time, I want to be treated the same way you do, with respect, honor, and professionalism.
Competitive. I want to be the best at whatever I do. If something is worth doing, it is worth doing right even better than expected.
A leader. I strive to make everyone's job easier and more pleasant. I believe a team effort gets the best results, and I care about your success as much as my own. We're all in this to win, and I'd like us to build a lasting working relationship.
My promise to you: my performance and work will never be mediocre, and I'll never quit on you (unless I hit the lottery, or become a famous best selling author, or my heart stops working. Then I might have to quit on you).
"Jason has always delivered an amazing product, with multiple reads in a very timely fashion…he makes my job so much easier during the production process." —Stacy Jones, Sr. Account Executive at MindsEye Creative
What I've done (the Cliffs Notes version)
My voice has reached literally hundreds of millions of people. Thousands of clients across the U.S. have trusted me to deliver their message and help grow their brand. A few highlights of my voice over career so far:
Voiced 3 toy figurines for the 50th Anniversary of Rudolph the Red Nosed Reindeer (you can still buy them!)
Voiced the promo for Jerry Seinfeld's Netflix special Seinfeld before Seinfeld (huge for me. Seinfeld is my favorite show ever.)
Narrated 65 episodes of the TV show Kids Do the Craziest Things
A small role in the video game Red Dead Redemption 2
Played the voice of St. Charles TV Reporter on General Hospital
For 4 years, I've been the global brand voice for a well-known lawn and garden product, delivering their most successful campaign in 40 years
Commercials for NASCAR, Disney, Universal Studios, Lowes, McDonald's, Schwinn, Trek Bikes, MLB Network, Discovery Channel, Audi, The PGA, CiCI's Pizza, Target, Sport Clips Haircuts, MTV, Miller Lite, Extended Stay America, Harbor Freight Tools, dozens of car dealers and furniture stores, on and on.
This is just a short list. You can view & listen to my demos to get a feel for my range and sound quality, or learn more about my services. If you're curious, you can also check out my IMDB profile.
"Jason can breathe life and excitement into even the driest of scripts." —Natalie Weis, Senior Writer at Doe-Anderson Advertising
In addition, I've done work for major motion pictures such as Patch Adams with my hero Robin Williams, Hannibal, and several others, and I had a memorable 4 seconds of fame on Modern Family. On stage, I played Harold Hill twice in The Music Man. I've performed with the National Symphony Orchestra and Chorus in Washington, DC and sung Mass at the Vatican, alongside Pope John Paul II. I've DJ'd over 500 weddings.
I love performing. I love music and acting, but voice over is what I was meant to do for a living.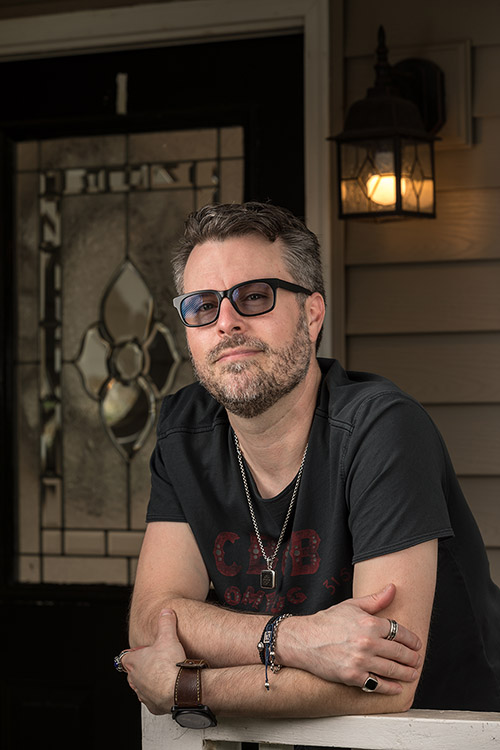 How I became a voice actor in the first place
It all started with a fancy tape recorder and natural talent…
Like most VO artists, I could mimic people from an early age and have a knack for accents. My dad encouraged my talent when he bought me a Quickshot 4 Mixing Studio, a toy that let me record my voice and add sound effects—my first lesson in audio editing and probably what led me to become a wedding DJ later on.
In high school, I was a drama/band nerd. No regrets there. My directors were like second parents to me and taught me two of the most valuable life lessons I still hold today: mediocrity is never an option, and persistence is the only way to achieve a goal.
My first paid voiceover gig was for Belk department store. I was 18. Naturally, I took a trip to Disney World with the income. At that time I wanted to be a musician and actor, so I went to college for a few years, studying voice with Michael Forest of the Met Opera and music from Grammy winner Robert Shafer. After two years in college, I wound up back home. I built three successful businesses: a painting company (a non sequitur, I know), a DJ business, and my voice over business.
Out to L.A. and Billy Idol's ex-girlfriend's apartment.
In 2005, I decided to do something radical. I sold my house, dissolved my businesses, packed my truck and drove to Los Angeles with Flea, my Jack Russell Corgi. We moved into Billy Idol's ex-girlfriend's old apartment in West Hollywood—true story. It was the challenge I needed to get to where I was heading.
I built a small VO booth beside my bed, the only option in that shoebox. I bought some gear and began to grow my career as a voice actor. At the same time, a business partner and I opened a wedding DJ company called Elegant Event Entertainment, which soon became one of the most highly referred in L.A.
Now I'm a full time voice over actor, and I love it.
After a few years, I met a mentor in the VO business. He changed my life and my career. I got enough great agents and personal clients that I could walk away from the DJ business, become a full time voice actor, and never look back.
In 2018, I moved back to my hometown of Asheville, NC to be closer to my family and roots. I built a professional voice over recording studio to keep providing my clients with the top quality work they're used to from me.
I hope I can keep doing what I love for years and years to come. If you have a project and my voice fits it, I hope we can get to know each other and build a lasting working relationship.
Why is my company named Fleadog, Inc.?
Sadly, Flea is no longer with us in body, but she is in spirit. I named my corporation (the "business" end of my business) Fleadog, Inc. This is the company name my clients see on my contracts, invoices, and other documents. If we work together, you'll pay me through Fleadog, Inc.
"I absolutely love working with Jason Jones for my voice projects. Jason always delivers exactly what we need in the time we need it…His speed and quality is on point!" —Sean Mueller, Account Producer, Dakota Video